My/Mo Mochi Ice Cream has launched a vegan line of treats: My/Mo Mochi Cashew Cream Frozen Desserts. The four new additions include Strawberry, Chocolate, Vanilla and Salted Caramel, and are made with rich frozen cashew cream wrapped in soft rice dough. The dairy-free snacks come in at just 100 calories per ball.   All our products are kosher, which makes us happy.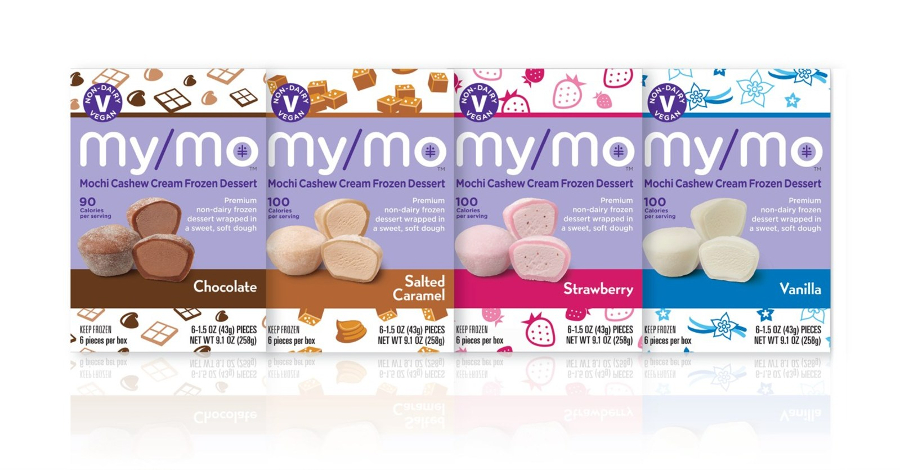 Chex Mix Muddy Buddies
Mint Chocolate Muddy Buddies feature crispy Corn Chex pieces in a chocolate mint coating with a powdery smooth finish
General Mills Convenience announces another flavor to its line up of Chex Mix Muddy Buddies. Mint Chocolate Muddy Buddies feature crispy Corn Chex pieces in a chocolate mint coating with a powdery smooth finish. The latest flavor joins other varieties of Muddy Buddies available in convenience stores including: Chocolate, Cookies & Cream and Brownie Supreme.
Mint Chocolate is a fast growing flavor in convenience yet is underrepresented in the salty category. The new flavor of Muddy Buddies helps retailers satisfy their shoppers' sweet tooth with an on-trend flavor combination.
The popular line of tomato forward condiments gets a new look as Traina Foods transitions its retail brand name to "Traina Home Grown" in the consumer marketplace. The branding and packaging are not the only "newness" in this line. In addition, corn syrup has been 100% eliminated from the formula in the existing Classic Sun Dried Tomato and Sriracha Sun Dried Tomato varieties, and both new flavors have been made without corn syrup as well.
New this season is an Organic Classic Sun Dried Tomato Ketchup made with organic sun dried tomatoes.
In addition, Traina Home Grown has innovated an entirely new type of ketchup that aligns with the family's Italian roots: Organic Sicilian Ketchup is truly a breakout flavor and product. With a unique blend of fennel, garlic and other Italian spices, the Sicilian Ketchup will elevate fish and chicken recipes, add a ton of authentic flavor to pasta, and tastes incredible in any traditional ketchup application.
All of Traina Home Grown's ketchup is made with four pounds of tomatoes in each 16 ounce bottle, all four flavors are high in lycopene, Kosher, gluten free and vegan.
Raised on the belief that "slower is better," four generations of the Traina family have evolved Traina Home Grown into a global producer of premium sun dried fruit. Enlisting a passion for authentic food, old world tradition, and the unique flavor of the California sun, Traina Home Grown makes a difference in the ingredients provided to customers, in their own line of Traina products, and in the commitment to healthier lifestyles and better business practices.
The new ketchups are available in early 2018 at TrainaFoods.com and will be distributed to major retailers nationwide throughout first quarter.
Clear/Cut Phocus launched a first-of-its-kind premium sparkling water containing caffeine derived from green teas. Created as a refreshing, natural alternative to sugary, calorie-laden sodas and energy drinks, Phocus sparkling waters are specially formulated with L-Theanine for the steady release of energy.
A pioneer in the sparkling water category, Phocus offers a solution for those seeking healthy energy and hydration. Each can contains about as much caffeine as a standard 8-ounce cup of coffee, and in addition to being Kosher, vegan, non-dairy, non-GMO, and gluten free, Phocus contains no calories, preservatives, sweeteners, or sodium. Phocus is currently available in four delicious flavors of sparkling water including Grapefruit, Cucumber, Blood Orange, Yuzu & Lime, and a natural sparkling water.
Back to Nature Foods Company added Honey Nut Granola to its lineup. The granola is made with sustainably sourced honey. With the new granola, Back to Nature is also pleased to launch a partnership with GloryBee to support their SAVE THE BEE initiative, which will focus on research, awareness and education to prevent the decline of America's bee population.
Honey Nut Granola is made with Tropical Blossom honey and cane sugar for the perfect hint of sweetness.  Made up of a satisfying mix of whole grain rolled oats, honey, pecans, almonds and coconut, the Honey Nut Granola can be enjoyed in a protein-packed yogurt parfait or a tasty trail mix.
The honey used in Back to Nature's Honey Nut Granola is sustainably sourced from around the world and certified by GloryBee, whose diverse family of conscientious, dedicated and knowledgeable individuals have been striving to achieve the highest possible standards for their products for more than 40 years. Through this partnership, Back to Nature is a sweet supporter of the SAVE THE BEE initiative, which provides the research, awareness and education needed to protect honeybees and promote healthy honeybee colonies.  OU kosher
TahiniBAR
Absolutely Gluten Free, maker of all-natural crackers, flatbreads and pizza, is taking on the energy bar category with the launch of TahiniBAR, a grab-and-go sesame seed snack that weighs in at only 100 calories. All varieties are certified OU Kosher and dairy-free.
Sesame seeds are an excellent source of copper, manganese, magnesium, calcium, phosphorus, iron, zinc, molybdenum, and selenium. These translate into a variety of health benefits including cholesterol-lowering phytosterols, heart health, improved blood pressure, hormone balance, as well as cancer fighting and fat burning properties. Sesame also helps boost nutrient absorption and energy levels, too.
TahiniBAR satisfies all of these demands in a novel new format. Like tahini and its decadent dessert cousin, halvah, the energy bars are made from all-natural roasted sesame seeds. Sesame seeds help boost energy levels and are a good source of vitamins, minerals, protein, fiber, Calcium, Iron, Zinc and potassium.  Much lower in calories than many other bars, this 100% gluten-free treat is available in three delectable varieties – Cocoa Nibs, Pistachio, and Vanilla – and sold in packs of 7 bars (4.4 oz.). The MSRP is $2.49 – $2.99 per box of 7 bars.
True, Campbell's is not known for kosher food, but their prognostications for 2018 seem to be right on!
CAMDEN, N.J. — The chefs at Campbell's Culinary & Baking Institute (CCBI) have put together a list of half a dozen food trends to keep an eye on for the year ahead.
From the early stage of discovery to those in the mainstream, Campbell's has ranked the following trends in its 2018 TrendScape Report:
Culinary Heritage: Categorized as being in the discovery stage, "heritage" is the culinary buzzword for 2018, replacing the likes of "authentic" and "ethnic" of years past. The concept of culinary heritage will place an emphasis on the people, traditions and stories that define our food.
Feel-Good Treats: Feel-Good Treats are all about providing indulgences with some nutritional value. According to Campbell's, "healthy-ish" treats like fortified ice creams, vegetable desserts, mood-enhancing ingredients, protein-packed chips and fresh produce are in the introduction stage.
Meat: While there's no denying that meatless protein alternatives are growing in popularity, consumers are still interested in eating meat — a trend that's in the adoption stage. Of particular interest to consumers are unique butcher cuts, antibiotic-free meats and exotic game.  (But will we see this in kosher meat??)
Botanicals: Also in the adoption stage are botanicals such as ginger, honey, hibiscus, lavender, elderflower, mint, cardamom and chamomile.
Alternatives: According to Campbell's, alternatives like lab-cultured burgers,  non-dairy "milks" and ancient grains are a rising megatrend that has already hit the mainstream.
Limited Edition: Joining alternatives in the mainstream are limited-edition releases that offer unique new twists on classic offerings, in addition to re-releases of formerly discontinued products and seasonal themes.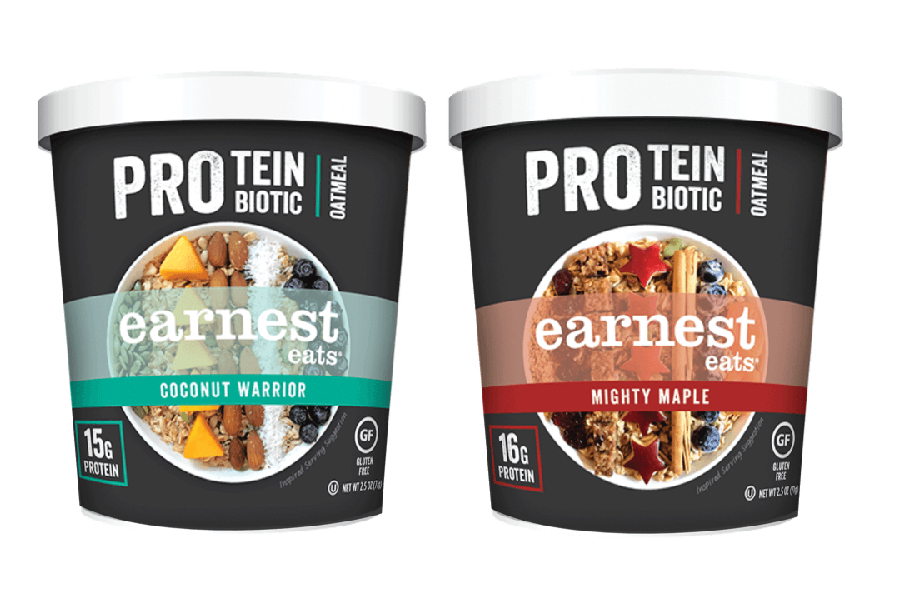 Earnest Eats has unveiled a portable breakfast option in its Protein + Probiotic Oatmeal cups. They are crafted as a superfood blend of ancient grains, including organic, whole rolled oats; puffed quinoa; and amaranth, along with grass-fed whey protein and probiotic cultures. The shelf-stable cups pack at least 15 grams of protein each, approximately the same amount of protein as three eggs. Single-serve cups have an SRP of $2.99 each, with resealable 10-ounce bags available early next year.  OU kosher
FROM MR FOOD TEST KITCHEN, EVERY DAY DIABETIC RECIPES
What You'll Need:
1 pound extra-lean ground beef
1 onion, chopped
4 cups water
1 (15-1/4-ounce) can whole kernel corn, drained
1 (14-1/2-ounce) can no-salt-added diced tomatoes
1

1

/2 (1-ounce) envelopes reduced-sodium dry taco seasoning mix
8 ounces low-carb pasta twists
What To Do:
In a large soup pot over high heat, brown ground beef and onion 8 to 10 minutes, until no pink remains in beef and onion is tender. Add remaining ingredients except pasta; mix well.
Bring to a boil, then stir in pasta. Reduce heat to low, cover, and simmer 15 to 18 minutes, or until pasta is tender.  Drain pasta.  Mix into pan with other ingredients.
Introducing two new delightfully delicious Granolas. Both are Non-GMO Project Verified, Kosher, and Organic certified; one Unsweetened Certified Gluten Free offering and one offering 9gm of protein per serving. Holding a new look in packaging, the delicious offerings of Organic Unsweetened Gluten Free Strawberry Granola and Organic Protein Granny Smith Apple Granola are sure to engage you. There are endless ways to enjoy these two new treats.  Certification is Kof-K