FROM BON APPETIT
Frosted Sugar Cookies, $2.99
Trader Joe's imitation of Lofthouse's iconic packaged cookies is the best thing they've brought to the new year. The freakishly smooth, delightfully underbaked sugar cookie is topped with frosting and randomly distributed purple-pink sprinkles. Whoever was in charge of sprinkles appears to have sneezed them out, some gather along the edges, holding on for dear frosting life.
But they really did it. It's mythic, and it dissolves into dust the second it touches your saliva. The minute you bite into it, you forget it was ever there. And it's everything you've missed since the last time you had one, stoned at 10 p.m. in Kroger with your middle school friends who've all had babies on Facebook by now. It's a cookie that will send you back in time, in memory, in a sugar-induced nostalgia nap.
This one is a Kosher Nexus Five Fork Award Winner!
It is a bit difficult to find this restaurant, but it is worth the effort!  Located in Talpiot (Jerusalem), the restaurant is located in an alley directly across the street from Papagaio (located at Yad Charutzim St Number 5.  As you walk in the alley, it is on your right, with a small circular sign only in Hebrew over the place.
There are a few tables inside the small space.  There are more tables outside.  The place has zero atmosphere, but so what?  It is the burgers that count.  The menu is surprisingly large and consists of the usual fast food burger place fare.
What makes this place different is that the butcher store next door (which they own) is the source of all their meat.  And what meat it is!  The meat is not fatty, and is freshly ground.  The standard burger is a good size.  Served on a great bun, you stand at the counter and watch as they grill your burger to perfection.  While you wait, you choose what toppings you want on your sandwich. We chose lettuce, pickles, and red onions.  We added aioli  (essentially garlic mayo) and ketchup.  Our dining companion added lots of charif (hot, hot, hot).
The onion rings were perfect. The steak fries are large and fried to a hot and crispy perfection. Both come in large portions.
Service is on a metal tray with the onion rings and fries coming in metal holders. Good sized napkins are on each table.  Drinks are the usual colas, teas, waters, and juices. You take your tray to the table of your choice, and you dig in!
This was probably the best burger we have had in Jerusalem.  It was amazing.  Two burgers, two drinks, one onion rings, and one side of fries came to $29.  Will we go back?  For sure!!!
TreTap Beverages has rolled out a new line of sparkling organic tree water. The shelf-stable line has been certified organic with the USDA by EcoCert, and according to the brand, "gives consumers a choice of healthy and environmentally sustainable beverages." Newly popular sap drinks typically are canned once a year, during the maple syrup season, and have a shelf life of one year. TreTap's Organic Tree Water's shelf life is open-dated. Flavors include Maple, Blueberry, Cucumber and Cranberry, and each has an SRP of $5.99 per four-pack.
2-6g sugar/can
54 antioxidants
NON-GMO
Kosher certified
Locally harvested
Natural hydration
Best served chilled
Only What You Need Inc. now offers OWYN ready-to-drink, plant-based protein shakes, which boast 20 grams of plant protein, organic greens and more than 500 mg of omega-3 fatty acids. The lineup does not contain dairy, gluten or soy, the company says.
Available in three flavors — Cold Brew Coffee, Dark Chocolate and Vanilla — the protein shakes are made with the company's protein blend, featuring pea protein, organic pumpkin powder and organic flaxseed oil. Additionally, the lineup offers 5 grams of fiber and 180 calories in each 12-ounce bottle.
OWYN Plant-Based Protein Shakes have a suggested retail price between $3.49 and $3.99 for a bottle and is distributed throughout New York City, with national roll outs planned in 2018. The lineup also is available for purchase on Amazon.com and the company's website, liveowyn.com.  (OU)
Ne-Mo's Bakery unveiled four new Cake Square flavors: Vanilla Birthday Cake with Buttercream Icing, Pumpkin Spice with Cream Cheese Icing, Lemon with Buttercream Icing, and Peppermint Mocha with Cream Cheese Icing. These new flavors are on-trend and reflect the quality and taste that Ne-Mo's Bakery is known for, according to the company. The new flavors are being added to the current Cake Square lineup, which includes Carrot, Chocolate, Banana, Red Velvet, and Black & White.
Peppermint Mocha with Cream Cheese Icing among new flavors.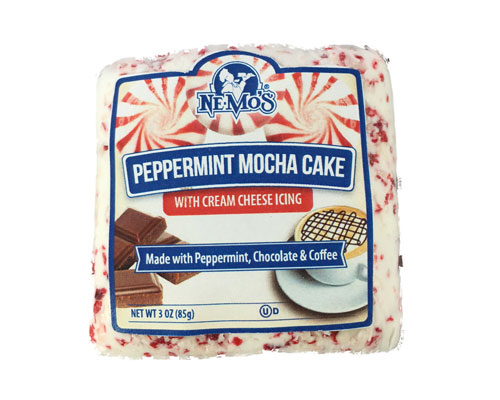 FROM MR. FOOD TEST KITCHEN
What You Need:
3

/4 cup mayonnaise
1 (3-ounce) package cream cheese, softened
1 cup shredded Cheddar cheese
1 cup shredded mozzarella cheese

1

/2 teaspoon garlic powder
10 slices sourdough bread
4 tablespoons (1/2 stick) butter, softened
What To Do:
In a medium bowl with an electric mixer, beat mayonnaise and cream cheese until light and fluffy. Stir in Cheddar cheese, mozzarella cheese, and garlic powder; mix well.
Spread each of five bread slices evenly with cheese mixture. Top with remaining bread slices. Spread butter on both sides of the sandwiches.
In a skillet over medium heat, cook in batches until golden on both sides and the cheese is melted.
Absolutely Gluten Free, maker of all-natural crackers, flatbreads, and pizza that are gluten-free, is taking on the energy bar category with the launch of TahiniBAR, a grab-and-go sesame seed snack that contains 100 calories. All varieties are certified OU Kosher and dairy-free.
Demand for authentic Mediterranean food, particularly seed-based spreads like hummus and tahini, is on the rise in the United States, with even more growth in the forecast.
The market for healthy portable snacks has seen dynamic growth; bars are more widely available and consumed on a more casual basis than ever before.
The gluten-free movement continues to gain traction as shoppers become more mindful of diets that support health and wellness. In fact, more than 30% of Generation Z and Millennials say they are willing to pay a premium for gluten-free products.
Finally, consumers are expecting intriguing new textures and flavors, and they want to indulge in ingredients like fruits, nuts, and chocolate.
Sesame seeds are truly one of the most ancient foods on earth. In fact, sesame plants are the oldest known plant species to be grown primarily for their seeds (pods) and oils rather than for their leaves, fruit or vegetables.
Health Benefits – Sesame seeds are an excellent source of copper, manganese, magnesium, calcium, phosphorus, iron, zinc, molybdenum, and selenium. These translate into a variety of health benefits including cholesterol-lowering phytosterols, heart health, improved blood pressure, hormone balance, as well as cancer fighting and fat burning properties. Sesame also helps boost nutrient absorption and energy levels, too.
TahiniBAR satisfies all of these demands in a novel new format. Like tahini and its decadent dessert cousin, halvah, the energy bars are made from all-natural roasted sesame seeds. Sesame seeds help boost energy levels and are a good source of vitamins, minerals, protein, fiber, Calcium, Iron, Zinc and potassium.  Much lower in calories than many other bars, this 100% gluten-free treat is available in three varieties – Cocoa Nibs, Pistachio, and Vanilla – and sold in packs of 7 bars (4.4-ounce). The suggested retail price is $2.49 – $2.99 per box of seven bars.
New energy bar is available in three varieties including Cocoa Nibs, Pistachio, and Vanilla
FROM GENIUS KITCHEN
If you like piña coladas and sacrifices to the hype gods, odds are that you're going to be super jazzed about Oreo's latest and greatest news: new flavors, y'all!
After a long and highly stressful deliberation period, the brand announced on Monday the winners of its "My Oreo Creation" contest, for which it asked its most loyal and creative fans to dream up the dopest, most flavorful Oreo cookie flavors. The winners' creations? Piña Colada Oreo Thins, Cherry Cola Oreos and Kettle Corn Oreos. That's right; quench your thirst with one of these beverage-flavored sugar sandwiches, or eat your way through a movie with caramelized cookies.
Biscuit buffs will be able to get their fix when the winning items are released in May 2018.
Two sodas and a time-honored, caramelized snack. What could be better?! Oh, but it doesn't stop there; the brand has also confirmed new flavors for the tip top o' the new year.
Beginning January 1st, cookie monsters everywhere will be able to chow down on Chocolate Hazelnut (read: Nutella-flavored) Oreos and Spicy Hot Cinnamon Oreos.
Staying on top of its seasonal awareness game, the cookie creator is pulling a few flava-flavs out of the old magic hat. No, not bunny-flavored, but you're close! Try Peeps Marshmallow-flavored Oreos for the Easter season, and Firework Oreos (complete with mouth-destroying, exploding Pop Rocks-style candy in the creamy filling) for one of the many patriotic summer holidays (hashtag America).
There are even some (unconfirmed) rumors that we might be blessed with Rocky Road Trip Oreos, Chocolate Peanut Butter Pie Oreos and Pistachio Oreos at some point in the coming year.
What a year to be alive!
My/Mo Mochi Ice Cream has launched a vegan line of treats: My/Mo Mochi Cashew Cream Frozen Desserts. The four new additions include Strawberry, Chocolate, Vanilla and Salted Caramel, and are made with rich frozen cashew cream wrapped in soft rice dough. The dairy-free snacks come in at just 100 calories per ball.   All our products are kosher, which makes us happy.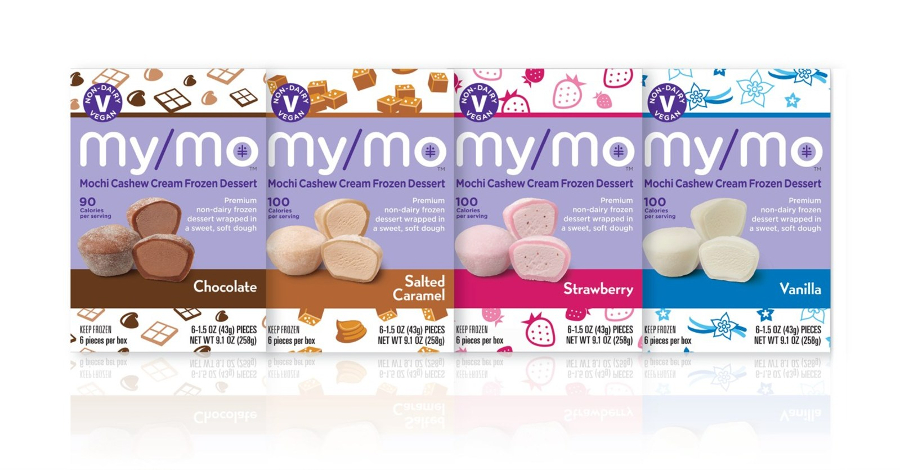 Chex Mix Muddy Buddies
Mint Chocolate Muddy Buddies feature crispy Corn Chex pieces in a chocolate mint coating with a powdery smooth finish
General Mills Convenience announces another flavor to its line up of Chex Mix Muddy Buddies. Mint Chocolate Muddy Buddies feature crispy Corn Chex pieces in a chocolate mint coating with a powdery smooth finish. The latest flavor joins other varieties of Muddy Buddies available in convenience stores including: Chocolate, Cookies & Cream and Brownie Supreme.
Mint Chocolate is a fast growing flavor in convenience yet is underrepresented in the salty category. The new flavor of Muddy Buddies helps retailers satisfy their shoppers' sweet tooth with an on-trend flavor combination.